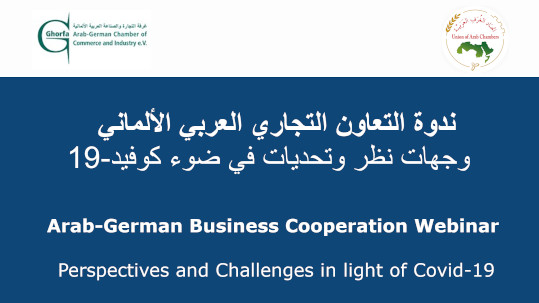 The Arab-German Chamber of Commerce and Industry, in cooperation with the Union of Arab Chambers, is organizing a virtual symposium on Arab-German business cooperation entitled: "Perspectives & Challenges in the Light of Covid-19", which will be attended by the Arab ambassadors in Germany and representatives of German and Arab institutions and companies, on Tuesday, May 26 (May) 2020, 10:00 - 11:15 am German time.
Speakers of this webinar will be, Dr. Khaled Hanafy, Secretary General of the Union of Arab Chambers, Dr. Mustapha Adib, the Ambassador of the Lebanese Republic to the Federal Republic of Germany, and Dean of the Arab Diplomatic Corps in Berlin, Mr. Miguel Burger, Minister of State at the Federal Ministry of Foreign Affairs, Dr. Peter Ramsauer, President of the Arab-Gerfman Chamber of Commerce and Industry, and Mr. Ralf Wintergerst, President of NMI and Chairman-Mgmt Board/CEO, Giesecke & Devrient GmbH.
The webinar will be held in English with a question-and-answer session.
Please click this link to register for the seminar:
After registering to participate, the webinar link will be sent to your email.