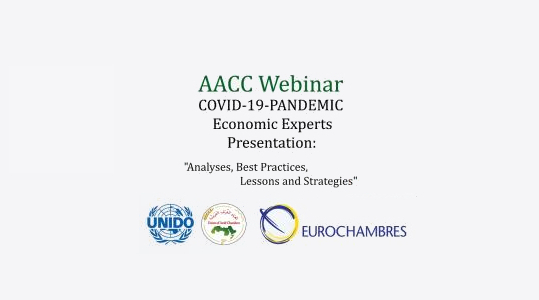 The Austro-Arab Chamber of Commerce (AACC) is organizing a virtual seminar, entitled "COVID-19-PANDEMIC" Economists Presentation: Analysis, Best Practices, Lessons and Strategies, on Wednesday, June 3, 2020 at 12:00 Vienna time (GMT + 2), 1 Afternoon Saudi time (GMT +3).
The seminar will be addressed by His Excellency Senator Richard Schenz, AACC President & Vice President of the Austrian Federal Economic Chamber (WKO); Prof. Dr. Josef Penninger, world-leading geneticist & molecular immunologist (SARS virus and treatment); H.E. Dr. Christoph Leitl, President of EUROCHAMBRES, His Excellency Dr. Khaled Hanafy, Secretary General of the Union of Arab Chambers, H.E. Mr. LI Yong, Director General of UNIDO. The Panel to be moderated by Eng. Mouddar Khouja, AACC Secretary-General.
The symposium aims to present the latest results of comprehensive medical research and experiments conducted by the leading scientists and researchers in the world dealing with the various stages and forms of the COVID-19 virus. The experts will present concepts, strategies, measures, and lessons learned at the national and international levels, thus providing a future view of what life will look like after infection with the Coronavirus, particularly in the medical and economic aspects.
Please click the link below to register for this webinar:
https://us02web.zoom.us/webinar/register/WN_8YP8vJpET56BIsbq3jeqqw