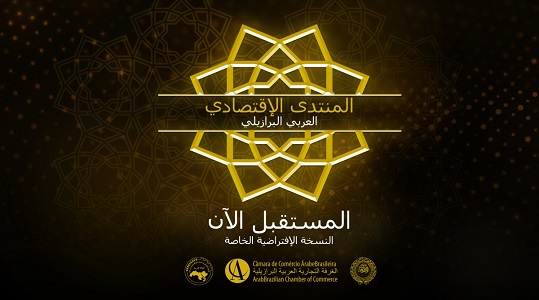 The Arab Brazilian Chamber of Commerce (ABCC) is organizing the virtual Arab-Brazilian Economic Forum during the period between October 19-22, under the slogan "The Future is Now".
The forum will include two virtual settings, one of which is dedicated to lectures and discussions, where its activities will be broadcast via the live broadcast platform. As for the other setting, it is dedicated to displaying the names and logos of the sponsoring companies within a three-dimensional (3D) space that was designed using computer graphics, in order to provide the individual, the ability to sense and interact with them using his senses, thus enhancing the sense of integration in that environment. Simultaneous Interpretation services will also be available into Arabic, English and Portuguese.
The topic of discussion in this forum will focus on the future, which today is the present, shedding the light on the need for Arab countries and Brazil at the present time to work and make every effort to ensure their position among the actors in the international community. On the first day of the forum, discussions will be limited to the topic of the prospects available to Brazil and the Arab countries in light of the new international scene. On the second day, the topic will be the new era of international business and economic business. The third day will include dialogues about the existing strategic partnership between Brazil and the Arab world in the field of food security. On the fourth and final day, the dialogue will revolve around environmental, social and corporate governance, and its importance in the current situation.
Within the available space for display, virtual wings will be allocated for the sponsoring companies which enable them to display their products and brands, in addition to the possibility of exchanging business cards and holding meetings, and these features differ according to the nature of the subscription contracted with each company. Within this space, a virtual café will be available, which will serve as a communication environment, through which the participants can exchange information with each other. To get your own section, please contact the Commercial Department at Arab Brazilian Chamber of Commerce.
To register, please click on this link:
https://www.forumcamaraarabe.com.br/inscricao/index_en.php