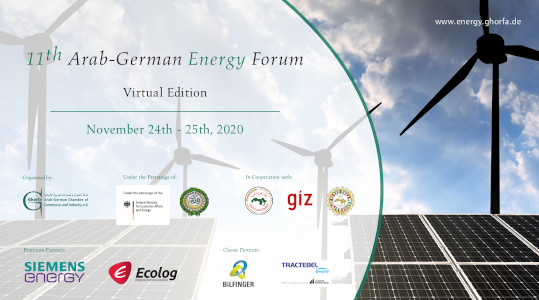 The energy transition is a pathway into a secure, environmentally-friendly, and economically viable future. Germany has shown brave leadership in digitisation, decentralisation and decarbonisation of its energy sector in the last decade. 
In the Arab world, the energy transition is even more challenging due to its rapidly rising consumption, for example due to increased cooling, salt water desalination and transportation demand. Large investments in the expansion of clean generation capacity have to be arranged. 
As German stakeholders have already accumulated a lot of experience in this area and since their expertise is in high demand in the Arab world, there is an enormous business potential for companies engaged in the energy sector. 
Fruitful collaborations and international cooperation are a strong foundation to tackle challenging situations like the current one together, and are pivotal for joint success in the energy transition. 
To further strengthen and expand the promising Arab-German-International business relations in the energy sector, the Ghorfa Arab-German Chamber of Commerce and Industry, in cooperation with the Federal Ministry for Economic Affairs and Energy and the GIZ, is organizing the 11th Arab German Energy Forum as a virtual edition from November 24th-25th, 2020. 
The 2-day conference will bring regional ministers, CEOs, policy makers and industry leaders together, to discuss and explore the challenges and opportunities facing the energy sector in the evolution and transformation to decarbonized energy systems. 
For registration please click the link below:
https://zoom.us/webinar/register/WN_mLHkHE5qT7WKfxnxS9xZnw