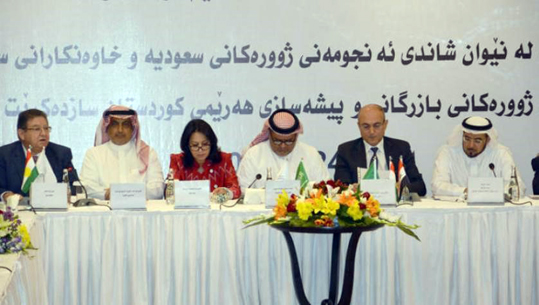 A delegation from the Council of Saudi Chambers, as well as Saudi Businessmen, visited the Kurdistan Region in Iraq on…. This delegation was headed by Dr. Sami bin Abdullah Al Nuaimi, President of the Council of Saudi Chambers, Dr. Mohammed bin Abdullah Al-Kharif, Chairman of the Saudi Business Council, and a large number of Saudi businessmen.
The delegation met with Dr. Dara Jalil Al Khayat, President of the Kurdistan Federation of Chambers of Commerce and Industry, some Ministers and Senior officials from the Kurdistan Regional Government as well as Businessmen and Traders in the region.
The President of the Council of Saudi Chambers emphasized that "There are great investment opportunities in the region which present good and are encouraging," considering that, "In presence of the strong relations between the two sides and the directives from His Majesty the King and the Custodian of the Two Holy Mosques as well as His Royal Highness the Crown Prince, we will proceed with the investment projects in various sectors of the region." Considering the historical ties among the Iraqis and Kurdistan and the Kingdom's status, Al-Khayyat expressed his hope to strengthen and develop trade and establish joint industries in various sectors where infrastructure and supplies are available.
Al-Khayyat referred to the investment law, which has been in effect since 2006, and which provides facilities and privileges to investors, such as the right of ownership, tax exemptions and transfer of profits. He called upon Saudi businessmen to invest in various sectors in the region and he also expressed the readiness of the Union of Chambers of Commerce and Industry in the region to provide possible facilities in this regard.