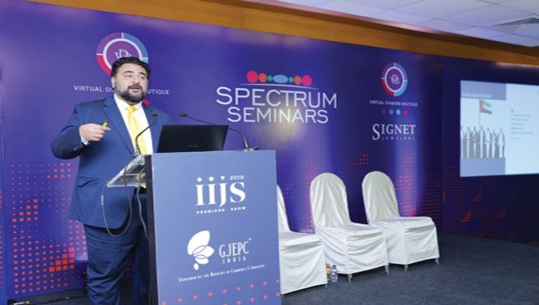 During its participation to the Indian International Jewelry Exhibition recently held in Mumbai, India, the Dubai Chamber of Commerce and Industry (DCCI) previewed the competitive advantages offered by Dubai's Emirates to Indian companies working in the field of jewelry and precious stones and wishing to enter the Markets of the region.
On the sidelines of the exhibition, Dubai Chamber organized a special seminar attended by more than 120 participants interested in the Dubai market, on the requirements for establishing a business in Dubai, especially related to trade in jewelry and precious stones. Under this occasion, Mr. Omar Khan, Director of External Offices in the Chamber, reviewed Emirate's opportunities, growth prospects, and development landscape.
Mr. Khan called upon the attendees to take advantage of Dubai as a gateway to the region's and African continent's markets, considering that Dubai is offering competitive advantages for companies and new opportunities in new markets. He also stressed the numerous advantages offered by Dubai to the Indian companies which includes namely the strategic location that links global trade roads and advanced logistics network that the Emirates offers to its businesses, in addition to the modern infrastructure and significant investment opportunities.