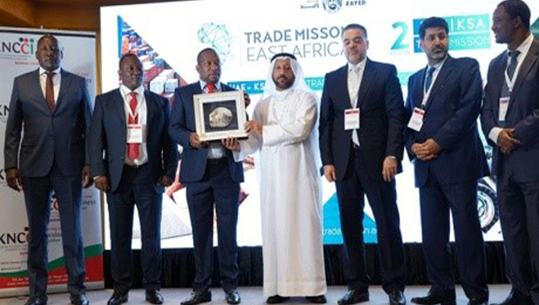 Sharjah Chamber's trade mission to Kenya concluded its visit as part of its African tour, where it organized the UAE - Kenya Trade and Investment Forum in Nairobi. The mission was organized by the Sharjah Chamber of Commerce and Industry (SCCI), which is being represented by the Sharjah Exports Development Center that falls under the Chamber's umbrella.
H.E Abdallah Sultan Al Owais, Chairman of the Sharjah Chamber of Commerce and Industry (SCCI), stressed that the UAE and Kenya have enjoyed close bilateral relations, built on a spirit of understanding and mutual respect. He stated that the meeting held in Nairobi is part of the joint efforts that aim to strengthen these relations and continuously develop them in order to open the door to more opportunities for investment, trade exchange and fruitful cooperation for both parties.
Al Owais said that Emirati products enjoy unique and competitive advantages in terms of their diversity, quality, high specifications and prices. He added that the Emirati business sectors are looking to enhance their presence and distribution in the flourishing markets of Kenya, as well as construct partnerships with the Kenyan business community, exchange investments, promote trade exchange, and provide attractive incentives.
Source: (Al Khaleej Newspaper – UAE, Edited)