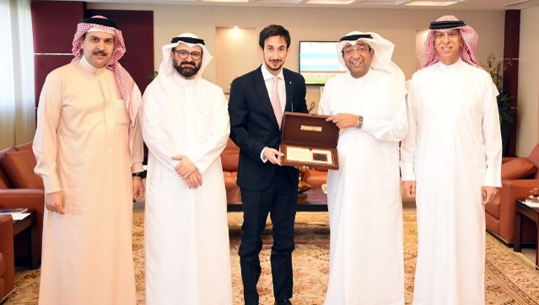 The Head of Bahrain Chamber of Commerce and Industry, Sameer Abdulla Nass, met with the Argentinian Chargٞé d'Affaires to Saudi Arabia, Federico Franceschini, during which they discussed means of boosting and developing bilateral trade relations between the two Countries.
Sameer Nass called for intensification in the influx and exchanges of trade delegations in ways to encourage employers and representatives of major companies from both territories to explore more available investment opportunities, and hence, strengthen and deepen the bilateral relations between Bahrain and Argentine.
He pointed out that "Bahrain's Investment Climate is the best in the region, as Bahrain is the gateway to all GCC Markets because of its links to these markets with a sophisticated telecommunications network, and the legislative and legal environment which encourages foreign investment to exist and invest in Bahrain." He added, "Many major international companies have taken Bahrain as their regional headquarters due to these factors."
Meanwhile, Franceschini expressed his common interest of improving the level of bilateral relations between Bahrain and Argentine by enabling the private sector in both countries to develop and promote joint investments.
Source: (BCCI Website, Edited)