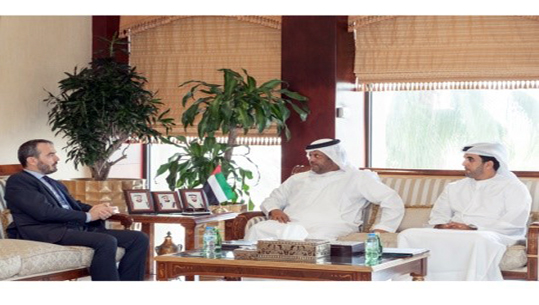 Mohammed Thani Murshed Al-Rumaithi, the Chairman of the Federation of UAE Chambers of Commerce and Industry and Chairman of the Abu Dhabi Chamber of Commerce and Industry, met with the Ambassador of the Republic of Latvia to UAE Astra Kormi, during which they discussed possible opportunities for strengthening economic cooperation relations between the two friendly countries.
Kormi stressed that "the visit comes as part of the efforts to build bridges of economic and investment cooperation between Latvia and the UAE, especially in view of the great economic openness that is taking place in the capital Abu Dhabi, which has become a supportive environment for business and attractive investments." She also pointed out that "Latvia is one of the most promising markets with rich experiences in sectors such as tourism, agriculture, pharmaceuticals, information technology, renewable energy and the food sector, especially as Latvia is famous for its food and organic food."
Al-Rumaithi also received Chargé d'Affaires of the Embassy of the Republic of Kosovo Amir Ahmadi, who stressed that "the visit comes within the framework of the development and promotion of economic relations to serve the common interests of both sides."
Source: (Al Khaleej Newspaper, Edited)