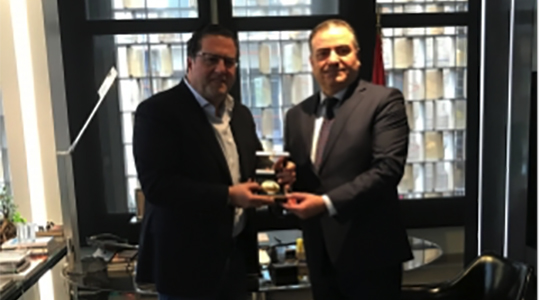 Mohamed Choucair, the President of the Federation of Lebanese Chambers, received at the headquarters of Beirut and Mount Lebanon Chamber the Ambassador of Lebanon in Algeria Mohamed Hassan accompanied by a media delegation from the Algerian channel Al Shorouk headed by Somaya Ben Sedira, where they discussed the ways to enhance the economic relations between the two countries.
Choucair stressed on the need to cancel the entry visas between the two countries to encourage tourism and investment, ensuring the existence of a lot of available opportunities which must be worked on jointly. He noted the efforts being made by the Ambassador of Lebanon in Algeria to strengthen the bilateral economic relations, pointing out that "Ambassador Hassan is making great efforts in this regard and we are working tirelessly to develop economic relations with Algeria to levels that satisfy the aspirations of the two peoples."
For his part, Ambassador Hassan praised the role of Mr. Choucair role and the Lebanese private sector in strengthening the national economy and the increase of its competitiveness, as well as the establishment of bridges of communication and economic cooperation with the outside, especially with Algeria, pointing out that there are many available potentials to make a qualitative leap in the level of economic relations with Algeria, especially the Tourist level.
Source: (Lebanese Federation of Chambers of Commerce website, Edited)