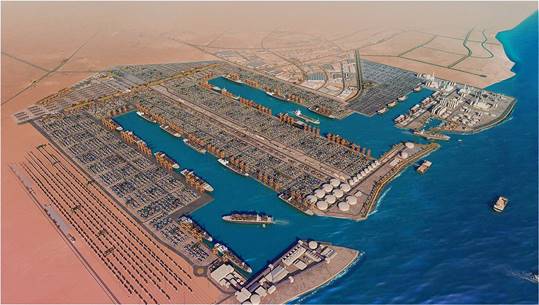 H.H. Mohammed Bin Salman, the Saudi Crown Prince opened King Abdullah Economic Port in Jeddah, which is 17 million square meters and 18 meters deep. The new port can lodge the largest new shipping vessels. It is considered as the first port owned, developed and managed by the private sector in Saudi Arabia.
King Abdullah Port is one of the largest private sector infrastructure projects in the Middle East, it is also one of the fastest growing ports in the world, with 3.4 million containers per year. Upon completion, the port will be one of the world's top 10 with a capacity of 20 million containers, 15 million tons of bulk cargo and 1.5 million cars.
The Kingdom aims at making King Abdullah Port, a global logistical platform not only for Saudi Arabia. The port has achieved growth in previous years and we expect strong growth to continue in the coming years. Noting that the growth rate in 2017 and 2018 reached 36% and the bulk container berth was inaugurated.
Source: (Al-Arabiya.net, Edited)