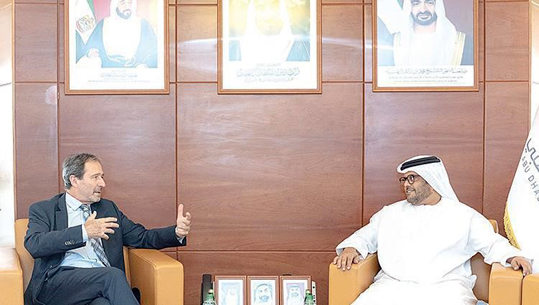 The President of UAE Federation of Chambers of Commerce & Industry, the Chairman of Abu Dhabi Chamber of Commerce and Industry, Mohammed Thani Murshed Al Rumaithi discussed with Fernando de Martini, Argentine Ambassador to the UAE, ways to develop the economic cooperation between businessmen and companies in the Emirate of Abu Dhabi and Argentina.
Al-Rumaithi stressed the importance of enhancing opportunities for the development of trade and investment relations between the business community and its activities in the two friendly countries, pointing out that the Abu Dhabi Chamber will spare no effort to elevate these relations to wide horizons, especially in the vital and important sectors, confirming the existence of huge investment and commercial opportunities provided by the Emirate of Abu Dhabi, as well as the system of economic legislation and the comparative advantages of the UAE in general, making it the most important and attractive destination for foreign investment in the world.
Fernando de Martini praised the remarkable economic development between the two countries in recent years, and called for strengthening the investments of private sector companies and institutions in Abu Dhabi and their presence in the Argentine markets, especially in agriculture and the food sector, which is Argentina is famous for.
Source: (Al Khaleej newspaper, Edited)