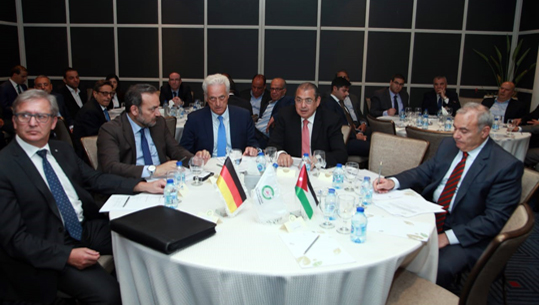 "Jordan, despite the challenges and difficulties it is facing and the instability in the region, will remain a homeland for business, investment and trade, supported by security and stability," said Senator Nael Raja Al Kabariti, the Chairman of the BOD of Jordan Chamber of Commerce.
Kalbariti's speech came during the Jordanian-German Business Forum, where he ensured that "the Kingdom is a gateway to the countries of the region, especially construction and reconstruction projects in Iraq and Syria," adding that "Jordan and Germany should work together to take advantage of these opportunities."
He also called on the German side to take advantage of the economic and investment opportunities available in Jordan in strategic sectors such as energy, renewable energy, information technology, health, logistics and transportation sector, pointing to the role of the private sector to overcome the challenges and obstacles to promote and develop the trade exchanges between the two countries.
For his part, Dr. Peter Ramsauer, the President of Ghorfa Arab-German Chamber of Commerce and Industry said that the forum seeks to strengthen the economic and trade relations between the two countries and networking between the business community and discover the available opportunities. Affirming the chamber's readiness to cooperate with Jordan in opening markets and enabling the Jordanian industry to achieve the required European standards, through providing the necessary expertise to the Jordanian cadres to contribute to sustainable development and capacity development.
Source: (JOCC Website, Edited)