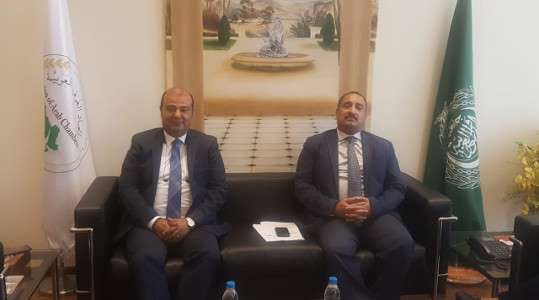 Dr. Khaled Hanafy, Secretary General of the Union of Arab Chambers, received in the headquarters of the Union, the visit of Dr. Hashem Hussein, Head of UNIDO Investment and Technology Promotion Office (UNIDO-Bahrain). The meeting tackled ways to enhance cooperation between the Union of Arab Chambers and UNIDO, mainly on the level of entrepreneurship and innovation (United Nations Industrial Development Organization).
During the meeting, the two sides agreed on the need to enhance entrepreneurship in the Arab World, providing enough funding for Arab Entrepreneurs while supporting SMEs. They also raised the importance of the role of the Arab Chambers & its Federations in collaborating with UNIDO and the Union, in order to work on embracing and supporting entrepreneurs via training sessions.
They further shed the light on the necessity of establishing Centers for Entrepreneurship within the headquarters of the Arab Chambers and its Federations, allowing entrepreneurs to have access to funding for their future projects, while at the same enhancing and activating the role of the private sector in supporting and promoting entrepreneurship in the Arab world.
Finally, an agreement was passed between the Union of Arab Chambers and UNIDO to organize conferences and seminars starting next phase, including the 18th session of the Arab Business and Investors Conference, which will take place in Manama, Kingdom of Bahrain, under the patronage of His Majesty King Hamad bin Issa Al Khalifa, through 11-13 November 2019. The Conference will be hosted under the following theme «Investing in the Fourth Industrial Revolution: Entrepreneurship and Innovation in the Digital Economy».
This event will be held in conjunction with the "3rd Global Entrepreneurship Forum" in Bahrain, which already includes the "Entrepreneurship Rally" competition, reuniting students from universities, colleges and institutes from different Arab countries over a period of five months. This Competition aims at involving students from all backgrounds and help them sharpen their talents by learning what they need to create startups. 
The "Entrepreneurship Rally" competition was first organized in 2016 through the Arab Academy for Science, Technology and Maritime Transport (ASTM) Entrepreneurship Center, which provides several services to support young people wishing to set up their own start-up companies on various stages.