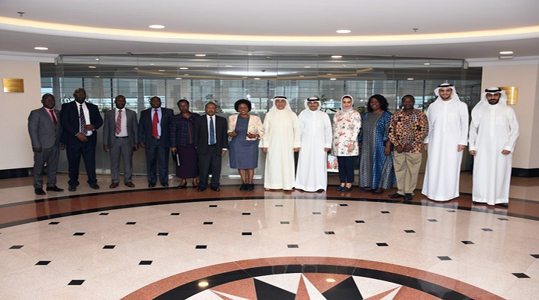 A delegation of Kenyan economists, headed by Jackline Yonga the Director of Middle East Affairs at the Kenyan Ministry of Foreign Affairs, visited Bahrain Chamber of Commerce and Industry (BCCI), the House of Traders, where they met with Mr. Shaker Ebrahim Al Shater, the Chief Executive Officer and Dr. Abdulla Bader Al Sada, the Deputy CEO of BCCI a number of the chamber's administrators.
they discussed during the meeting the overall relations between the two countries and means to develop them to reach new and promising horizons. The Chamber also expressed its optimism about the mutual desire to expand the scope of trade exchange, which reached up to more than USD 14 million by 2018, which helps in achieving the aspirations of both countries and peoples, and serves the vision of the two sides to promote joint cooperation in the fields of energy, technology, banking, tourism, petrochemicals and small industries.
For her part, Mrs. Yonga expressed her country's aspiration for further cooperation and coordination with the Kingdom of Bahrain, commending the Bahrain Chamber of Commerce and Industry's pioneering role as a representative of the private sector and its keenness to strengthening the partnership with all countries, wishing the Kingdom of Bahrain more progress, wealth and prosperity.
Source: (BCCI Website, Edited)