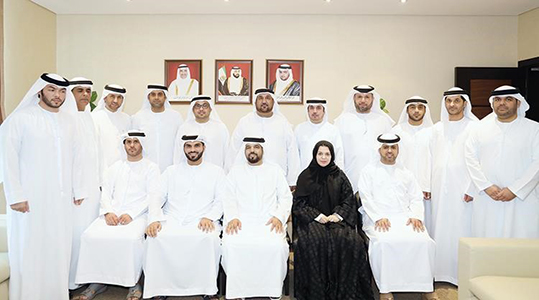 The Chairman and members of the Executive Board of Fujairah Chamber of Commerce and Industry won the elections by acclamation and in a precedent in the Chamber's history.
In the Chamber's first meeting at the Chamber's headquarters, Sheikh Saeed Sorour Saif Al Sharqi was elected as the President of the Council, Sorour Hamad Obaid Hamad Al-Zouhari was elected as First Vice-President of the Council, Ahmed Sultan Al-Hantoubi as Second Vice-President, Khamis Mohammed Al Ruwaili as the amanuensis and Khalid Khalfan Masoud Al Kaabi as Treasurer.
Sheikh Saeed Al Sharqi, Chairman of the Board of Directors, thanked HH Sheikh Hamad Bin Mohammed Al Sharqi, Supreme Council Member and Ruler of Fujairah, for his support of the Chamber, and granting it his confidence to follow the democratic approach it had been pursuing to elect and form its Council. He also thanked His Highness Sheikh Mohammed bin Hamad bin Mohammed Al Sharqi, the Crown Prince of Fujairah, for his keenness to follow up the Chamber's activities and his efforts to promote the private sector and enhance its potential to achieve sustainable development in the Emirate.
He also thanked the members of the Chamber's General Assembly for the trust they have given to the members of the Council by electing them for the fourteenth session, stressing the importance of working in a team spirit and in full cooperation to achieve the upgrading of the Chamber through activating the specialized committees in the coming period, and meet the ambitions of business sectors in the Emirate of Fujairah.
Source: (Al Khaleej newspaper, Edited)