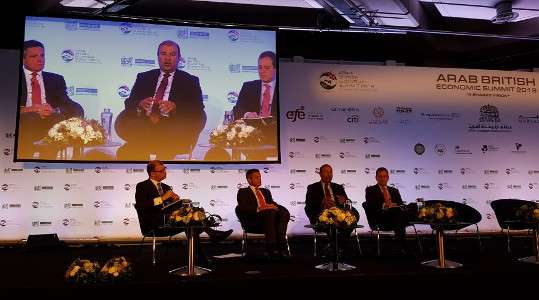 The Secretary-General of the Union of Arab Chambers, Dr. Khaled Hanafy, pointed out during his participation in the Arab-British Economic Summit hosted by London, to the existence of strategic initiatives by many Arab countries, where most of the Arab countries began to develop their logistics services, which is great and very important in terms of developing and improving the supply chain issue, which will make these countries ready to play a successful regional and international role in promoting international cooperation.
Dr. Hanafy continued: "Based on this, the Arab markets should not be treated as normal markets, but as a one big market. Arab countries should not be dealt with separately, they should be treated as a unified and integrated group, making Arab countries a strategic ally for Britain and all of the European countries, causing the relationship to evolve and move from an import-export relationship to a strategic partnership."
He stressed that "today in the light of the Fourth Industrial Revolution, there are tremendous efforts exerted by the Arab countries to cope with the transformations brought about by this revolution, and indeed there are a number of those countries have made a significant leap in this regard, where the Gulf States and a significant number of the Arab countries are different from what they were in the past."
He added: "Logistics has witnessed tremendous development in the Arab world, in line with the huge Silk Road project initiated by China at the initiative of Mr. Xi Jinping, the Chinese President."
"The Arab region, through its waterways, especially the Suez Canal, the Red Sea and the Gulf of Oman, is a vital vein in international trade, where more than 30 percent of this trade passes through these passageways," he said.
Dr. Hanafy concluded: "In addition, the business environment has developed significantly in the Arab world, and many Arab countries such as Saudi Arabia, Kuwait, UAE, Qatar, Bahrain, Oman, etc. have developed long-term strategic plans and have made significant achievements in implementing these plans, and this is clearly evident in the international reports that commend the business climate in these countries and for that reason, the opportunity today is available more than ever to place the foundation for a future strategic cooperation relationship."