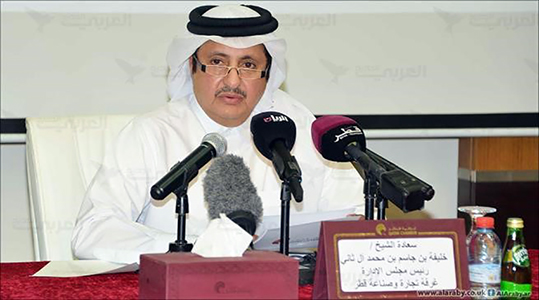 The President of Qatar Chamber of Commerce and Industry, Sheikh Khalifa bin Jassim Al Thani, confirmed that the Qatari economy has proven to be strong and resilient in the face of crises and that it is still maintaining an accelerated growth rate according to the estimates of the International Monetary Fund.
He affirmed that the Qatari private sector has proven to be a true partner of the public sector in the course of economic development, noting the important role that the private sector has played in finding new sources of goods and products, as well as its contribution to securing the needs of the local market of necessary goods, and the orientation towards the local industry, which has witnessed steady growth in the number of factories and increase in the production capacity of existing factories.
Sheikh Khalifa pointed to the increase in private sector exports and the arrival of the national product to a large number of global markets, revealing the establishment of more than 47 thousand new companies in Qatar during the past three years, pointing to attracting more foreign investments to Qatar in light of the legislation, facilities, and incentives provided by the state to attract foreign investment.
He also pointed out that the economic and legislative environment, balanced plans and strategies, and the cooperation of all parties in the country, in addition to Qatar's commercial relations with brotherly and friendly countries, altogether contributed to achieving economic gains.
Source (The New Arab Newspaper, Edited)