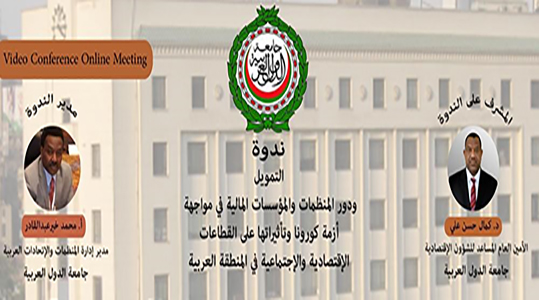 The League of Arab States (the Economic Sector) will organize, next Saturday, June the 20th 2020, a virtual seminar on the topic (Finance & the Role of Financial Organizations and Institutions in Facing the Corona Crisis & Its Impact on the Economic and Social Sectors in the Arab Region), with the participation of a number of Arab, regional and international organizations among them are the Union of Arab Banks, the Arab Fund for Economic and Social Development, the World Bank, the Islamic Development Bank, the Union of Arab Chambers, the Union of Arab Investors and the Federation of Arab Businessmen, within the framework of the efforts of the Arab League Secretariat to confront the repercussions of the Corona crisis on the Arab region.
In this context, Mohamed Khair Abdel Qader, the Minister Chief, Director of the Department of Arab Organizations and Associations at the League of Arab States, stated that the webinar will discuss a number of axes on the role of Arab banks, the private sector, companies and individuals in supporting the socio-economic sectors most affected by the pandemic in the Arab region, and the efforts of funds The Arab Fund for Small and Medium Enterprises, and the efforts of international organizations to face the repercussions of the Corona crisis and its effects on the economies of countries and address them in the short, medium and long term.
Dr. Mohamed Khair Abdel Qader indicated that the symposium will address an axis on investment, appropriate programs and plans to deal with this crisis and its effects on the investment climate in the coming stage and the efforts of businessmen and incentive packages that have been monitored to address the repercussions of the crisis.
He added that the Covid-19 pandemic is a very serious humanitarian crisis that has profound repercussions for the whole world, especially in its health, economic and social dimensions, and everyone is devoting his efforts to discuss the challenges facing peoples in light of that crisis. Finding appropriate plans and appropriate solutions to limit the aggravation of their damages, confront these repercussions and overcome the challenges posed by the pandemic to our Arab countries and peoples.
A link will be sent to your email upon registration.