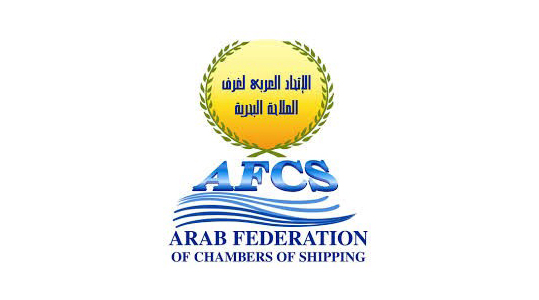 The Arab Federation of Chambers of Shipping organized a virtual symposium entitled " The Effect of the Coronavirus on e-Commerce, Electronic Shipping Bill & Its Impact on Arab Maritime Trade & Transport", on June 15th, with the participation of a group of specialists, decision-makers, and intellectuals in the Arab world. The Webinar concluded the following main results:
 1. The main lesson learned from the Corona pandemic crisis is that digital readiness, speed of movement and response represent the difference between success and failure and contribute to a large extent in reducing damages.
2. It is important to unify and focus the efforts in order for Arab maritime transport to occupy the position it deserves because it is the basis for world trade.
3. This calls for digitization of all maritime transport operations in the Arab world, as the digitization rate is very weak compared to air transport. This would enhance the efficiency of inter-Arab and foreign trade and e-commerce, as it would contribute significantly to reducing the time spent on trade, and in reducing costs so that the result will be reflected on the consumer.
4. The importance of non-reservation towards e-commerce, which will be the language of future trade, and work to reject fear-based on smart technology experiences and applications, with the need for coordination between Arab countries regarding all stages of maritime trade transport.
5. Calling for canceling late fines and reducing port fees in the Arab world due to the difficult current conditions.
6. Standardizing Arab commodities specifications, removing obstacles and reducing documents through digitization so that the transaction becomes digital from door to door. Adoption of a risk analysis mechanism for inspection, payment, tracking and electronic documents
7. Cooperate in supply chains and digitization, and link Arab ports to a container platform.
8. Noting what Tunisia, Morocco and Jordan have done in developing new legislations to facilitate maritime trade, and inviting the remaining Arab countries to do so.
9. Confirm and acknowledge the role of the Alexandria Chamber of Commerce in supporting companies through developing appropriate digital applications and electronic training programs, and calling for strengthening their role and the role of the rest of the Arab Chambers in setting policies for their responsibilities, capabilities, expertise, and knowledge of market needs.
10. The importance of betting in future investments on green and blue technologies and supporting the logistic sectors, customs clearance companies, and small and medium enterprises.