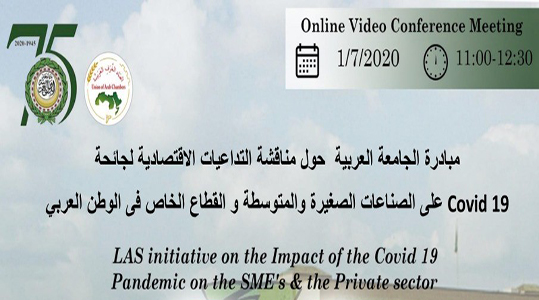 The League of Arab States - Economic Sector - in cooperation with the Union of Arab Chambers, is organizing, on Wednesday, July the 1st 2020, at 11:00 am (Cairo time), a virtual seminar (via Zoom) entitled "The Economic Implications of COVID-19 Pandemic on SME's and the Private Sector in the Arab world".
The virtual symposium is chaired by the following: Ambassador Dr. Kamal Hassan Ali, Assistant Secretary-General, Head of Economic Affairs Sector, and the participation of Dr. Khaled Hanafy, Secretary-General of the Union of Arab Chambers, Mr. Fayez Al Mutairi, Director General of the Arab Labor Organization, and Dr. Ibrahim Al Dakhiri, Director General of the Arab Organization for Agricultural Development, Dr. Hashem Hussein, President of the Arab Regional Center for Training and Development of Entrepreneurs and Investment, Mr. Abdulaziz Al-Mekhlafi, Secretary-General of the Arab-German Chamber of Commerce and Industry, Ambassador Abdel-Moneim Mohamed Mahmoud, Secretary-General of the Arab Federation for the Development of Industrial Exports, and Dr. Sarah El-Gazzar, Economic Adviser at the Union of Arab Chambers & Dean of the Faculty of International Transport and Logistics at the Arab Academy for Science, Technology and Maritime Transport.
The webinar will discuss issues of the negative impact of COVID-19 virus on small and medium-sized companies in Arab countries, ways, and mechanisms for achieving food security for Arab countries, new policies, and programs developed by UNIDO that are compatible with Arab countries, incentive programs, and safety networks pursued by the European countries and their strategies during the post-crisis stage, the negative effects that affected the industrial sector in the Arab countries and how to face them, and the change in patterns of the work environment after the spread of the culture of remote work.