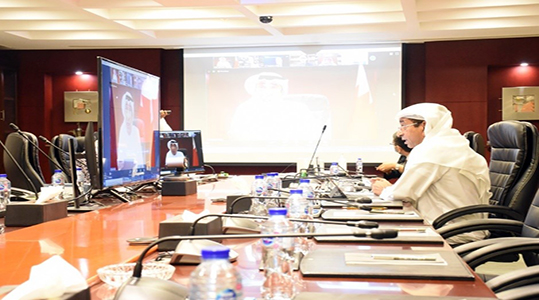 The Chairman of Bahrain Chamber of Commerce and Industry, Sameer Abdullah Nass, participated in the virtual roundtable sessions organized by the World Business Angels Investment Forum (WBAF) under the title " "Regional transformation of Gulf economies through entrepreneurship as a response to Covid-19."
The roundtable event sessions addressed the effects of the Corona pandemic on the economies of the Arab Gulf states, the sectors most affected by the closure process, the measures taken by countries in the region to support business continuity and stimulate the economy, and the measures needed to restore economic activity, along with the need to advance small and medium enterprises and encourage a culture of entrepreneurship.
Nass expressed his pride in the considered measures taken by the Bahrain government to confront the Corona pandemic and ensure the safety of citizens and residents, in addition to support packages and exemptions from fees that affected citizens and business owners and contributed significantly to reducing burdens, supporting business continuity and stimulating the national economy.
BCCI's Chairman also reviewed the role played by Bahrain Chamber of Commerce and Industry during this period, as it prepared a number of studies and questionnaires on the sectors most affected and made recommendations to the government in drawing up strategies to support business continuity and restore the vitality of the economy. Mr. Nass highlighted a number of initiatives and programs launched by the chamber with the aim of encouraging its members to keep pace with the changes and ensure the continuity of their work and even maintaining its growth.
It is worth noting that the World Business Angels Investment Forum (WBAF) aims to support startups and develop entrepreneurial ecosystems, and helps investment capital and companies in communicating with international companies, financial technology and other relevant institutions.
Source (BCCI Website, Edited)