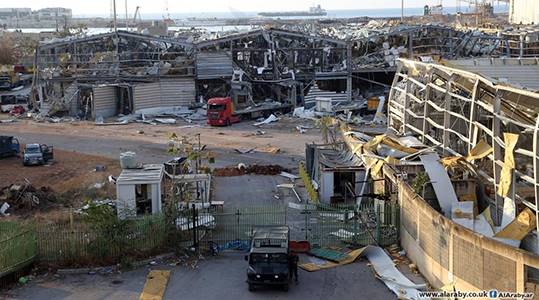 Lebanese President Michel Aoun revealed, during his meeting with German Foreign Minister Heiko Maas, that "the initial estimates of losses in the Beirut Port explosion exceed 15 billion dollars."
President Aoun explained to the German Minister the measures that the government is adopting to confront the repercussions of the Beirut port explosion, in addition to addressing the current economic and financial affairs, considering that Minister Maas's participation to the Paris Conference and the assistance provided by the German government to Lebanon were highly appreciated. Aoun emphasized that Lebanon is proceeding with the necessary reforms, combating corruption, and criminal investigations in several institutions, to reveal the reasons that led to the decline of the state's financial capabilities.
For his part, the German Foreign Minister pointed out that "Siemens decided to provide two 80-megawatt power generators to provide electricity for a period of one year free of charge to more than 65 thousand people, and the cost of this work is estimated at 45 million euros," noting that "the necessary equipment will reach Beirut, during the next few days, to be installed in the affected areas."
Maas explained that "the Paris conference in support of Beirut and the Lebanese people, organized by French President Emmanuel Macron, showed the solidarity of the international community with Lebanon in its ordeal, and its desire to stand by the Lebanese to enable them to overcome what happened," stressing that "Germany rushed to provide urgent aid to Lebanon." Pointing out that "the amount of twenty million euros presented by Germany at the conference, will be followed by other assistance to support the Lebanese economy."
Source (Al-Araby Al-Jadeed Newspaper, Edited)