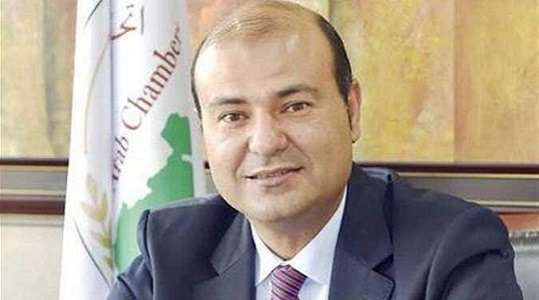 The Secretary General of the Union of Arab Chambers, Dr. Khaled Hanafi, pointed out that "Arab-Chinese relations are not nascent or new. Rather, their roots lie in the depths of history, and they have continued their development and progress in various circumstances and times, as it has proven in the recent difficult period its strength and prospects for future development."
Hanafi pointed out that "the Union of Arab Chambers establishes solid institutional relations with China through the joint Arab-Chinese Chamber of Commerce that we established in 1988 and has played and still has a very vital role in promoting cooperation and common interests and exploring prospects for future cooperation in line with the ambitious aspirations of both sides."
Hanafi's words came during the meeting of the Arab-Chinese Chamber of Commerce via the "video conference" feature, with the participation of a group of Arab and Chinese economic figures, in addition to a prominent number of Arab ambassadors accredited to the People's Republic of China, especially the ambassador of the United Arab Emirates, Dr. Ali Obaid Al Dhaheri, and the Ambassador of the Hashemite Kingdom of Jordan Hussam Al-Husseini, ambassador of the Kingdom of Bahrain Anwar Al-Abdullah, and the Commercial Attaché at the Embassy of Lebanon Joseph Tohme.
Hanafi stressed that "despite the negative repercussions caused by the spread of the" Covid-19 "virus, trade between China and some Arab countries continues to register growth and has shown flexibility and vitality," revealing that "Chinese companies signed contracts worth 35.6 billion US dollars with Arab countries. In the past two years, an increase of 9% year on year. While direct investment by Chinese companies reached 1.2 billion US dollars, covering a wide range of areas such as infrastructure, manufacturing, e-commerce and finance. In addition, there are many Arab companies investing in China, especially in infrastructure."
He said, "China invests $ 18 billion in Egypt, including the joint trade area along the Suez Canal, which is one of the most important" Belt and Road "projects in the Red Sea. As of the end of June 2019, the region has attracted a total of 85 companies, with a cumulative turnover of $ 1.7 billion to create more than 4,000 jobs. Noting that a large part of China's trade with North Africa and Europe passes through the Egyptian Suez Canal."
Hanafi said, "The current circumstances necessitate deepening cooperation and moving forward by building sustainable industrial networks and strengthening supply chains by focusing on cooperation in the areas provided by the Fourth Industrial Revolution."
And he considered that "the challenge today is not limited to establishing productive projects, but rather to produce high-quality products and services that are related to creativity, innovation, leadership and solutions that keep pace with new challenges," he pointed out that "we need to invest what is provided by cooperation between Arab and Chinese entrepreneurs in the framework of the Fourth Industrial Revolution and its digital components, such as big data, the Internet of things, artificial intelligence, blockchain and 3D printing, which have enormous economic potential." This is in addition to other technologies such as nano and renewable energy technologies.
He stressed that "it is important to cooperate to employ these energies in the fields of traditional and electronic cross-border trade, investment sectors, traditional and renewable energy, science and technology, industry, health, tourism, recovery, rural development, agro-technology and combating desertification, in addition to promoting investment in commercial cooperation projects, especially logistics and marine services, and technological finance, research and development."
Source (Union of Arab Chambers)