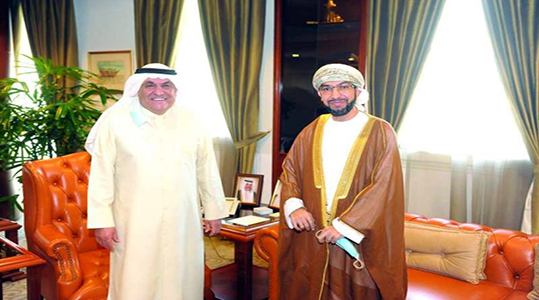 The President of Kuwait Chamber of Commerce and Industry, Mohammed Jassem Al-Sager, affirmed that "the fraternal ties that bind Kuwait and the Sultanate of Oman, which have been established since ancient times, require more joint efforts," stressing that "investment and commercial cooperation between the two sides is a fundamental pillar and a great indicator to measure the strength and durability of the economic relationship between them."
Al-Sager's words came during his meeting with the new ambassador of the Sultanate of Oman to Kuwait, Saleh bin Amer Al-Kharousi, where he indicated that "the Sultanate of Oman is a strategic economic partner to Kuwait, as hundreds of Kuwaiti companies operate in the Sultanate, in retail trade, energy, contracting and construction, tourism and other fields", adding that "the latest official statistics on the value of commercial exchanges between Kuwait and Oman showed nearly a record of $464, which is a positive sign, but of course it does not reflect the depth of fraternal relations between Kuwait and the Sultanate."
Al-Sager explained that "the chamber is fully willing to provide its services to reach positive results and achieve common goals."
For his part, Al-Kharousi appreciated the great efforts of Kuwait Chamber of Commerce and Industry to consolidate relations between the two brotherly countries, stressing keenness to enhance economic and trade relations, with the aim of uniting, enhancing and developing economic and commercial cooperation between the two countries, as it achieves the mutual interests of the business sector of both sides, through strategic partnerships to open new economic horizons.
Source (Al-Rai Newspaper-Kuwait, Edited)