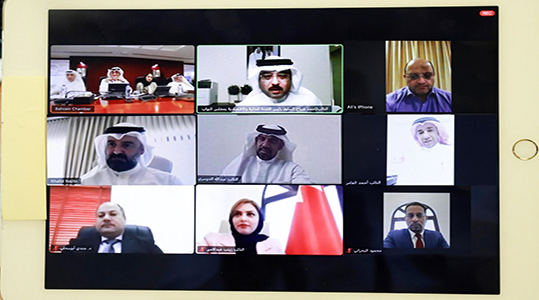 The President of the Bahrain Chamber of Commerce and Industry, Sameer Abdullah Nass, stressed the importance of creating a law that encourages foreign investment in the Kingdom of Bahrain, and clarifies the incentives, investment opportunities and guarantees provided to foreign capital in accordance with the principles included in the economic vision of the Kingdom of Bahrain 2030, in order to create an attractive environment that helps transitioning from an economy based on oil wealth to a productive and diversified economy capable of global competition.
Nass's words came during the hypothetical joint meeting he held with the Parliament's Financial and Economic Affairs Committee headed by Representative Ahmed Sabah al-Salloum, where he stressed that "it has become necessary to enhance the competitive environment for the national economy by launching a package of appropriate legislation that encourages the principle of equal opportunities and strengthens the attractiveness of the investment environment to the Bahraini economy."
He stressed that "The Kingdom of Bahrain has a fertile investment environment and has many attractive ingredients, but there are some obstacles that limit this, the most important of which is the absence of regulatory legislation and laws, despite the presence of many factors encouraging investment in the Kingdom."
Source (BCCI Website, Edited)