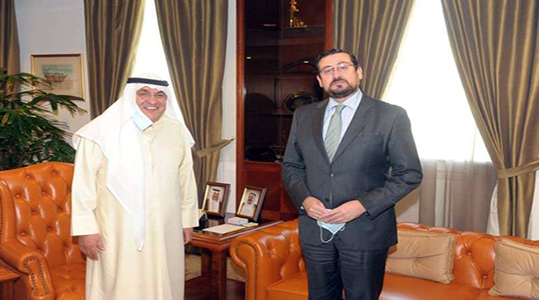 The Chairman of Kuwait Chamber of Commerce and Industry, Mohammed Al-Sager, affirmed that "Kuwait and Spain have good potentials to develop trade and investment cooperation, and make more efforts to achieve this through the exchange of trade delegations' visits, and to provide the Chamber with investment projects available to be disseminated to those interested in the Kuwaiti business sector."
This came during a meeting with the Spanish ambassador to Kuwait, Miguel José Moro Aguilar, and the economic and commercial attaché at the embassy, ​​Francisco Medina, in the presence of the Chamber's Director General, Rabah Rabah.
Al-Sagerr emphasized that "the chamber is fully prepared to provide all its services to reach positive results between the two countries, pointing out that the Kuwaiti private sector has successful and exemplary investment experiences in many countries of the world."
For his part, Aguilar valued the Chamber's efforts to consolidate relations between Kuwait and Spain, stressing the keenness to deepen the economic and trade relations, adding that "the excellent political relations that bind the two countries are the main pillar for developing joint economic ties."
On the other hand, Al-Sager, during his meeting with the Turkish ambassador to Kuwait, Ayesha Kuytak, referred to the strength of the Kuwaiti and Turkish historical relations at all political and economic joint levels, pointing to "the importance of the role of the private sector in the fields of economic development and enhancing joint cooperation, by attracting investment projects and forming successful partnerships between the Kuwaiti and Turkish sides."
Source (Al-Rai Newspaper-Kuwait, Edited)