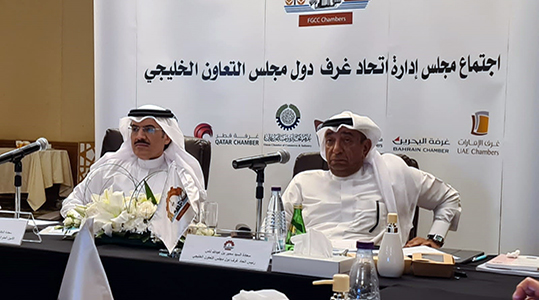 Chairman of the Federation of Chambers of the Gulf Cooperation Council and Chairman of the Bahrain Chamber of Commerce and Industry Sameer Nass chaired the virtual meeting (53) of the Federation Council, which was held via visual electronic broadcast, with the participation of heads of federations and member chambers of the Federation, and the Secretary-General of the Federation, Dr. Saud bin Abdulaziz Al-Mishari.
In his speech, Nass stressed that "the current circumstances and data due to the health, social and economic implications of the outbreak of the new Coronavirus (Covid-19) require the Gulf private sector to strengthen its important role and work side by side with the governments of the Gulf Cooperation Council states in the reform process with its various components," pointing to "the necessity to follow up studying the repercussions of the Corona epidemic on the Gulf private sector during the next stage, especially since the crisis is still ongoing, and the dimensions of the repercussions are still under way and the need for all the efforts of the official authorities to join forces with the private sector in order to work together to develop appropriate solutions to confront it and restore the economy to the track. "
In addition, the meeting discussed the topics on the agenda, the most important of which are presenting the results of the study of restructuring the Federation's General Secretariat, following up on developments in the construction of the new headquarters of the Federation's General Secretariat, the financial final accounts of the General Secretariat for the year 2018, the appointment of the auditor for the year 2020, and the annual report of the General Secretariat of the Federation For the year 2019, and the joint cooperation between the Union and the General Secretariat of the Cooperation Council for the Arab States of the Gulf on international economic relations.
Source (Bahrain Chamber of Commerce and Industry, Edited)