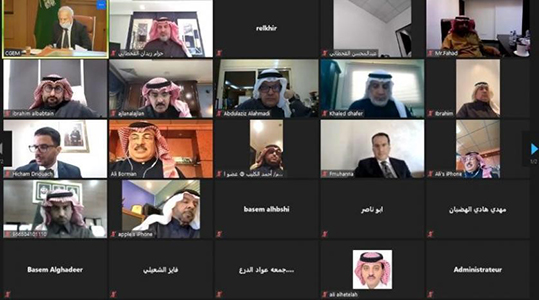 The Saudi-Moroccan Business Council held a remote work meeting, during which they discussed mechanisms for activating economic and commercial cooperation and partnership between businessmen in the two countries, and a call for the establishment of a joint investment fund.
The meeting discussed the challenges facing investors in both countries and ways to overcome them in cooperation with the relevant authorities, holding bilateral meetings to promote import and export, as well as efforts to raise awareness of Saudi investors and exporters of the required procedures in Morocco, and a proposal to establish a joint annual trade fair.
The Chairman of the Council of Saudi Chambers, Ajlan Al-Ajlan, explained that "the joint Moroccan-Saudi Business Council's role greatly contributes to pushing economic relations towards further development and growth," hoping that "this meeting will accelerate the pace towards activating the Council's activity and laying down practical mechanisms to implement its provisions and following up on its decisions, exploring ways to develop trade exchange operations, discussing investment opportunities in various fields and discussing mechanisms that would achieve these goals.
Al-Ajlan expressed his hope that the work of this meeting would culminate in the development of practical mechanisms to strengthen economic relations between the two kingdoms, by agreeing on a package of mechanisms to work on by both parties, in order to improve the size and type of commercial and investment relations.
Source (Asharq Al-Awsat Newspaper, Edited)