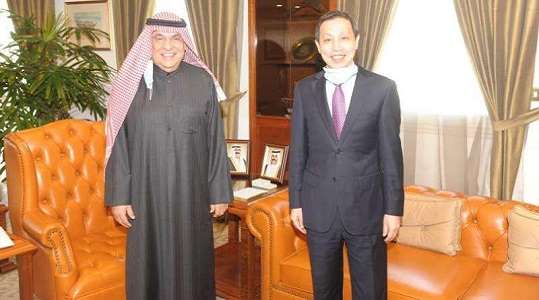 The head of the Kuwait Chamber of Commerce and Industry, Muhammad Al-Sager, affirmed that the chamber pays great attention to consolidating joint economic relations with China, which ranks first as Kuwait's best trading partner, stressing that it is ready to harness all its capabilities to achieve common goals.
This came during his meeting with the Chinese ambassador to Kuwait Li Minggang, in the presence of the Chamber's Director General, Rabah al-Rabah, to discuss the nature of economic cooperation between Kuwait and China, and to discuss ways to establish more joint investment projects between the two countries, and to encourage the establishment of economic activities to develop the existing relations between them.
For his part, Minggang stressed that the Chinese embassy is striving to develop bilateral relations between the two countries at all levels, urging the exploitation of investment opportunities available in each of them. He also pointed out that efforts should be made to overcome obstacles facing investors, increase trade exchange and visits of delegations between the two friendly countries, explaining that China is looking forward to moving forward in implementing the Silk City project and developing the Kuwaiti islands, which is considered a strategic and developmental project. He also indicated that he will invite the Kuwaiti business community during this year to participate in economic activities in China, with the aim of discussing investment cooperation opportunities available in various sectors, expressing his satisfaction with the opening of a Kuwaiti consulate in Shanghai about a year ago, which is a new building block of Kuwaiti-Chinese political and economic cooperation, in addition to the opening of a direct flight route between Kuwait and Quanzhou, which will facilitate the movement of investors between the two friendly countries.
Source (Al-Rai Newspaper-Kuwait, Edited)