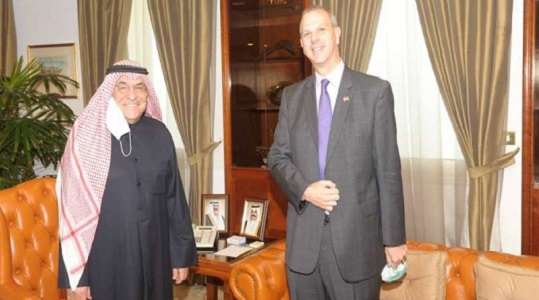 The President of Kuwait Chamber of Commerce and Industry, Muhammad Al-Sager, emphasized the depth of economic relations between Kuwait and Canada, pointing out that "Canada is one of the most important trading partners of Kuwait, and ranks 25th among the main exporting countries."
Al-Sager's words came during his meeting with Canadian Ambassador to Kuwait Louis-Pierre Emond, who stressed "the necessity of making more efforts to increase the volume of intra-trade and investment partnerships," considering that "the two countries have good potentials to develop trade and investment cooperation, which must be taken advantage of." The Chamber's readiness to provide its services to reach positive results and achieve common interests, "considering that" the Kuwaiti private sector has successful and exemplary investment experiences and experiences in many countries of the world."
For his part, the Canadian ambassador appreciated the Chamber's efforts to consolidate relations between the two friendly countries, affirming Canada's keenness to deepen economic and trade relations, with the aim of consolidating, enhancing and developing economic and trade cooperation, as it achieves the mutual interests of the business sector on both sides, through strategic partnerships that open new economic horizons."
He also stressed "the need to get acquainted with the views of the Kuwaiti private sector, on how to increase the volume of investments in the commercial and economic fields in Canada."
Source (Al-Rai Newspaper-Kuwait, Edited)