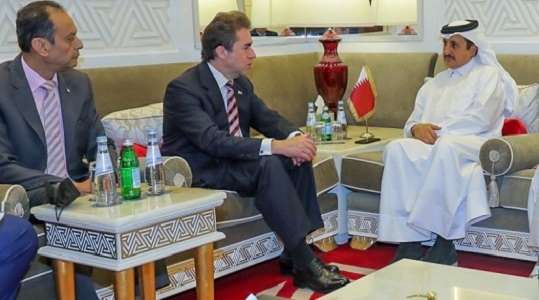 H.E. Sheikh Khalifa Bin Jassim Al Thani, Qatar Chamber Chairman, discussed with H.E. Luis Alberto Castiglioni, the Minister of Industry and Trade of the Republic of Paraguay, the relations of trade and investment cooperation between the two countries and ways to enhance them, where they reviewed the investment climate in Qatar and Paraguay and the opportunities available to the private sector in both countries.
Sheikh Khalifa Bin Jassim Al Thani pointed out that "the commercial exchange does not rise to the level of relations, as it is still below the level of ambitions, where it reached about 7 million riyals in the year 2020," confirming "the importance of studying the possibility of establishing joint projects, whether in Qatar or Paraguay, which opens greater opportunities for enhancing trade exchange between the two countries", explaining that Qatar and Paraguay signed an agreement in 2018 to encourage and protect mutual investments, and there is also an agreement for economic, commercial and technical cooperation, which is considered an encouraging factor for businessmen and investors to search for viable investment opportunities in both countries."
For his part, the Paraguayan Minister of Industry and Trade called on the Qatari businessmen to invest in Paraguay, pointing out that "there are many investment opportunities that Qatari businessmen can invest in, such as foodstuffs, natural energy generation, the automobile industry, pharmaceutical industries, forests and flowers, corporate services, and textiles.
Source (Al-Raya Newspaper-Qatar, Edited)