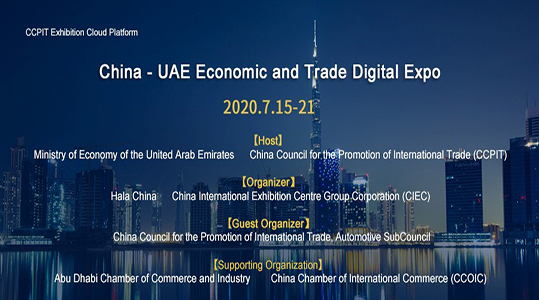 The Ministry of Economy of the United Arab Emirates, the China Council for the Promotion of International Trade, and the Federation of Chambers of Commerce and Industry in the Emirates, are organizing the "China-UAE Economic & Trade Digital Expo", which is the first of its kind between the two countries, during the period 15-21 July (2020).
The exhibition is a major platform for displaying the most important Chinese products in multiple sectors and its activities will last for a week with the participation of a number of top Chinese exhibitors and manufacturers.
The exhibition offers the possibility of direct meeting with Chinese manufacturers and providing live broadcasts and direct meetings between the participants of the two countries while providing the opportunity to see the latest Chinese products in sectors including tourism and travel, education, health care and medical equipment, textiles and fashion, modern building materials, modern agriculture, energy-saving and new energy vehicles, free zones, finance, and investment.
For more information and registration kindly visit the following link: