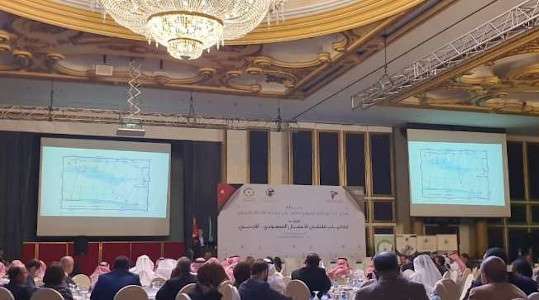 The Chairman of the Council of Saudi Chambers, Dr. Sami Al-Obaidy, said during the opening of the Saudi-Jordanian Business Forum in Amman, that the Kingdom is one of the most investing countries in Jordan, where the volume of trade exchange amounted to about 14.9 billion riyals in 2018, representing a growth of 11 percent compared to 2017. He also stressed the need for joint work and exchange of information on investment opportunities and the important role of the business sectors in the two countries.
Dr. Al-Obaidy called for "working on a new model of partnership between the private sector in both countries, and find new and innovative ways to finance joint ventures, and the integration of the role of the public and private sectors in trade and investment, and focus on sectors such as health, transport, tourism, entertainment and pharmaceutical industries and overcome obstacles to the growth of exports between the two countries".
For his part, Jordan Chamber of Commerce President Nael Kabariti, stressed that "the representatives of the private sector in Jordan and Saudi Arabia can play an important role in parallel with the official strategic role of the leaderships and governments of the two countries and proceed with the signing of more agreements that will facilitate trade exchange." He stressed the need to "lift the restrictions that hinder the movement of businessmen and investors in both directions, as well as the adoption of more legislation, laws and protocols that ease the burdens and obstacles facing investors, saying that "there are many areas through which to promote promising opportunities for cooperation at the Economic, commercial and investment levels, and to focus on technology, knowledge economy, artificial intelligence and other areas of advanced technologies."
Source (Council of Saudi Chambers website, Edited)