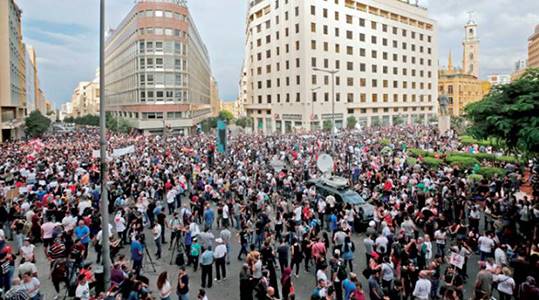 Moody's downgraded Lebanon to Caa2, due to the possibility of its debt rescheduling which would be likely categorized as default, following protests that toppled the government and shaken the investors' confidence.
Moody's announced that Lebanon's credit rating, which has been slashed from Caa1, will remain under review for further downgrades, noting that the Caa rating is too risky for international rating agencies.
The agency revealed that in the absence of a rapid and significant policy change, a quick deterioration in the balance of payments and the displacement of deposits would bring the GDP growth to zero or less, further fueling social discontent, undermining debt-servicing capacity and increasingly threatening the feasibility of currency pegs.
Several weeks of protests led to the resignation of Prime Minister Saad Hariri, and the stop of reforms' chances in the 2020 budget, and further withdrawals of already depleted foreign exchange reserves.
Moody's forecasts that the central bank's usable foreign exchange reserves of about $5 to $10 billion will be consumed in future payments to the government's external debt, estimated at $ 6.5 billion this year and next, including $1.5 billion due on November 28.
Source (Al-Khaleej newspaper, Edited)